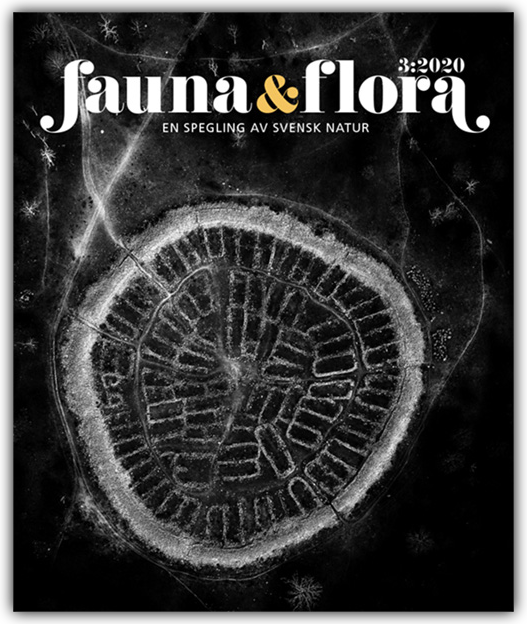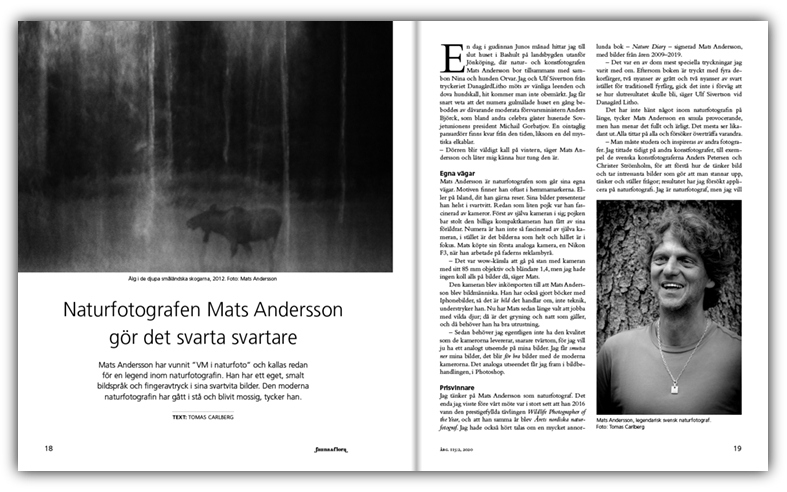 10 pages in magazine Fauna & Flora. (In Swedish). Text: Tomas Carlberg


Nature photographer Mats Andersson makes the dark even darker
Mats Andersson has won Wildlife Photographer of the Year and is already called a legend in nature photography. He has his own style in black and white nature photography. Modern nature photography has stalled and become mossy, he thinks.
One day in june, I finally find the house in Bashult in the countryside outside Jönköping, where art and nature photographer Mats Andersson lives with his partner Nina and the dog Orvar. Me and Ulf Sivertsson are met by friendly smiles and dull dog skulls, you do not come here unnoticed. I soon learn that the now yellow-painted house was once inhabited by the Minister of Defense Anders Björck, who, among other celebrity guests, housed Soviet President Mikhail Gorbachev. An impregnable armored door remains from that time, as well as some mysterious electrical cables …
Naturfotografen Mats Andersson gör det svarta svartare
Mats Andersson har vunnit "VM i naturfoto" och kallas redan för en legend inom naturfotografin. Han har ett eget, smalt bildspråk och fingeravtryck i sina svartvita bilder. Den moderna naturfotografin har gått i stå och blivit mossig, tycker han.
En dag i gudinnan Junos månad hittar jag till slut huset i Bashult på landsbygden utanför Jönköping, där natur- och konstfotografen Mats Andersson bor tillsammans med sambon Nina och hunden Orvar. Jag och Ulf Sivertson från tryckeriet DanagårdLitho möts av vänliga leenden och dova hundskall, hit kommer man inte obemärkt. Jag får snart veta att det numera gulmålade huset en gång beboddes av dåvarande moderata försvarsministern Anders Björck, som bland andra celebra gäster huserade Sovjetunionens president Michail Gorbatjov. En ointaglig pansardörr finns kvar från den tiden, liksom en del mystiska elkablar...

> Läs hela artikeln här PDF (SWE)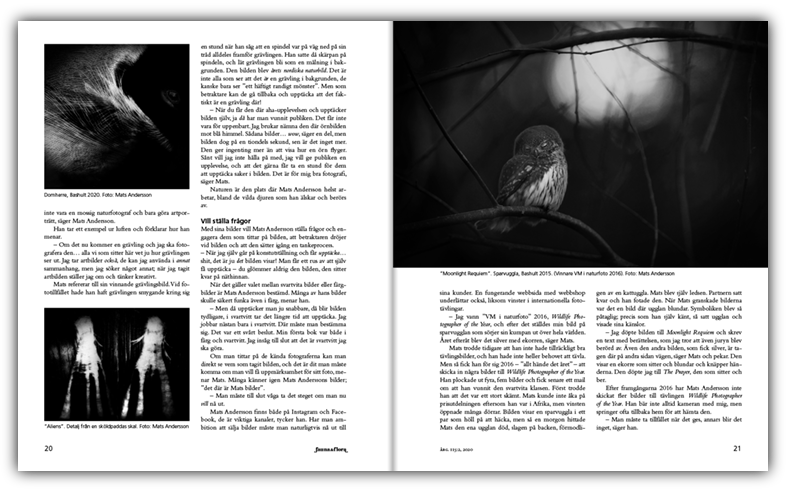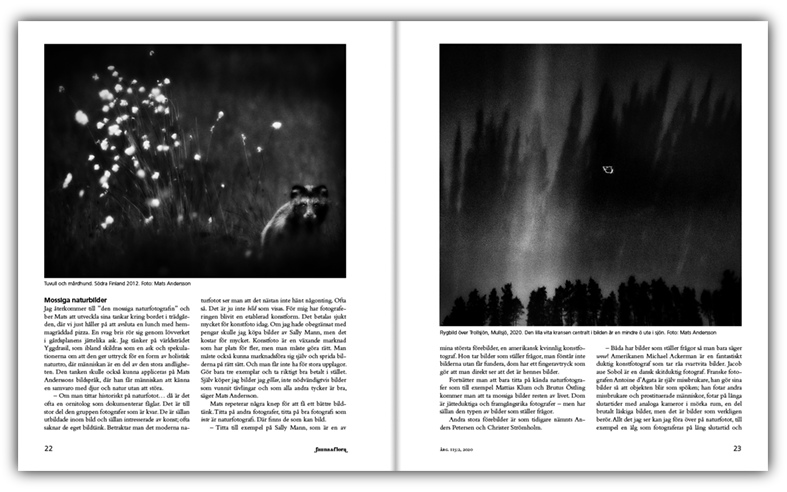 Fauna & Flora är en av Sveriges äldsta tidskrifter med nyheter, aktuella reportage och populärvetenskapliga artiklar, men också internationella notiser, reseskildringar, recensioner och porträtt av männi­skor som är verksamma inom de områden som Fauna & Flora bevakar. Tidningen grundades av professor Einar Lönnberg 1906 och gavs sedan ut av Naturhistoriska riksmuseet fram till slutet av 1990-talet då den övertogs av en stiftelse. Från 2002 till 2019 var ArtDatabanken, SLU utgivare. Från och med 2020 tog Naturcentrum AB över utgivningen och den tidigare redaktionen.